Marion County Announces New Website
posted on 5/12/21
Welcome to Marion County's new website!

We're pleased to unveil a new site focused on user experience and mobile navigation. The site includes several key improvements to assist residents, business owners, and visitors as they browse the website.
Search & Quick Links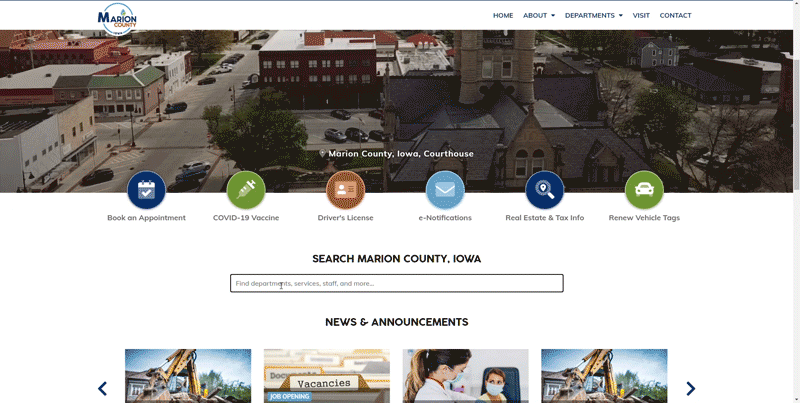 The new site makes searching the site and accessing quick links immediately available on the homepage. Users can search departments, services, staff, FAQs, and more to quickly find the information they need. Quick links are now more prominently highlighted and focused on five of our most visited pages. Quick links will change seasonally based on county services and public needs.
Department & Service Directory
Our department directory includes contact information for each county department as well as quick links to services. A search feature allows users to quickly search by department or service.
News & Events
Our new site includes homepage spots for news and events, making it easy for residents to immediately find our latest updates and upcoming meetings. Our departments will each be able to share updates, announcements, meetings, and community events with the public through these features.
e-Notifications
Citizens can now sign up to receive email notifications for alerts, bid notices, jobs, news, deadlines, updated meeting minutes, and more. You have the ability to opt-in to only the reminders/notifications that are applicable to you.
Frequently Asked Questions
Residents can quickly find answers to their questions with our new FAQ. Browse by department or search through all county questions and answers.
---
We encourage you to take a look and explore our new website. The site was created to give our users a more user-friendly experience and make it easier to communicate with our staff and access services online. If you have any questions, please contact us.